Looking to hire a remote software developer for your company?
You're in luck: there's no better time to do so than the present.

As businesses continue to adapt to the demands of the digital era, the need to onboard remote IT professionals is at an all-time high.
Worldwide, the IT outsourcing industry stands at a staggering $92.5B according to Statista, with predictions for increased market growth in the years to come.

Remote software developers are the ideal solution for any business looking to make progress at a time when social distancing has become the norm.

But how do you go about hiring one?

This guide breaks down the step-by-step process that hiring managers must follow to secure talented software developers that integrate into your remote team and deliver results that help you forward your business's goals.

Let's dive right in.
How To Hire A Remote Software Developer Step-by-Step
Incorporate this four-step process in your talent search efforts to define your hiring practices and speed up the rate at which your company acquires remote developers.
1. Determine Your Company's Requirements
Before you get the wheels in motion to source a software developer, you must first have a clear understanding of the scope and demands of the project your company is undertaking.
Your company is unique. You know better than anyone else how your product and value proposition differ from anything else that is on the market.

You also know that not all software developers are made equal. Some specialize in industry-specific SaaS products while others are comfortable working with only one or two programming languages.
Being aware of the specific demands of your project makes it easier for you to pinpoint the kind of software developer your business needs to make its goals a reality. It also makes the hiring process simpler since you already have a set of requirements that help you filter applicants and gain access to the right developer for the job.
Use the following tips to guide how you understand your company's needs and define your hiring criteria:
Explain the nature of the project: Take time and document the specificities of your project. Ask yourself why this project is important to your company and what metrics contribute to its success.
Define your project's core features: Make a list of the main elements that define the kind of work that a developer must do on your project. This helps you understand the kind of profile and background that your applicants need in order to succeed at your business.
Understand the purpose of your project: Bear in mind the end goal of your project. Hiring a developer to build a one-time minimum viable product (MVP) produces a different end result than bringing someone on board to build and manage your software solutions. Likewise, building a software app to run on Apple's App Store has a different scope compared to creating one that operates on a different software platform.
Not sure where to start? Jobheron helps hiring managers and founders onboard talented remote software developers without the high-end costs that recruitment agencies charge.

Find out how other hiring managers are using Jobheron's talent acquisition services as a cost-saving alternative to pricey recruitment agencies.
2. Define Salary & Compensation Package
Once you've got a firm grasp of your project's requirements, you must then figure out how to compensate the software developer who joins your remote team.
This is an integral step that you must carry out before you begin hunting for talent. This is because the compensation you offer to your applicants impacts your search criteria and also makes or breaks your chances of landing the right developer that your company needs.
Depending on the type of company you work at, your compensation packages vary. For example, hiring managers who work at startups tend to pitch lower-end salary offers to applicants. After all, most startups lack the financial capital to offer huge payouts to their employees.
While you may get away with that when hiring other team members, chances are you won't have the same luck when hiring software developers.
As of April 2022, most software developers in the United Kingdom earn between £31,000 and £45,000 pounds a year. Yet that's not all. These IT professionals earn higher payouts based on their skill sets and areas of specialization. To put things into context, a software developer who has five years of experience using Java, Python, and Native to build apps demands a more sizeable payout than a developer who has two years of experience and is fluent in only Java.
For that reason, you must take the time to figure out a compensation package for successful applicants. Differentiate their monthly salaries from any additional perks and benefits they get on the job.
Be sure to make allocations for wage increases, bonuses, and profit-sharing if applicable to your company.
3. Build a Hiring Funnel
Now that you have your hiring requirements and compensation packages defined, you must pay attention to the ins and outs of your entire hiring experience.
This doesn't only apply to the experience your applicant has when you engage with them about a hiring opportunity. Rather, it also takes into account what you as a hiring manager go through when recruiting talent.
Studying your hiring funnel is important since it allows you to pinpoint areas in your recruitment strategy that are lacking. That way, you get to beef them up and offer applicants a holistic, engaging experience from start to finish.

Most hiring funnels consist of the following parts:
Brand Awareness: This area involves the efforts you make to orient applicants about your company, its brand, image, and values.
Lead Generation: In this step, hiring managers take steps to attract applicants to a vacant post. This entails crafting and promoting job ads in such a way that your target applicants learn about your job opening.
Applicant Screening: Once you've received applications from prospective software developers, you sift through them based on the criteria you've set.
Interview: With your list of vetted candidates, you then proceed to an interview phase. Most hiring managers conduct this step via a virtual platform such as Zoom or Google Meet in the spirit of remote work.
Onboarding: This step takes into account everything from the offer made to the applicant right down to their initial first few weeks and months working with you.
Failure to optimize each facet of your hiring funnel spells disaster for your hiring efforts.

Companies who partner with Jobheron have an easier time generating potential leads thanks to our unique job posting method that multiplies ad visibility and gets it on over 100 top job boards in the United Kingdom.
That way, your ad reaches over 90% of job seekers.
In addition to partnering with Jobheron, take some time and develop a brand strategy that dictates how your company wishes to communicate with potential team members, especially in a remote environment.
Doing so enables you to discard or approve job descriptions in record time to help you reinvest your energy and effort into other areas of your business.
4. Avoid Common Hiring Mistakes

Knowing what you should do is as important as knowing what you mustn't do.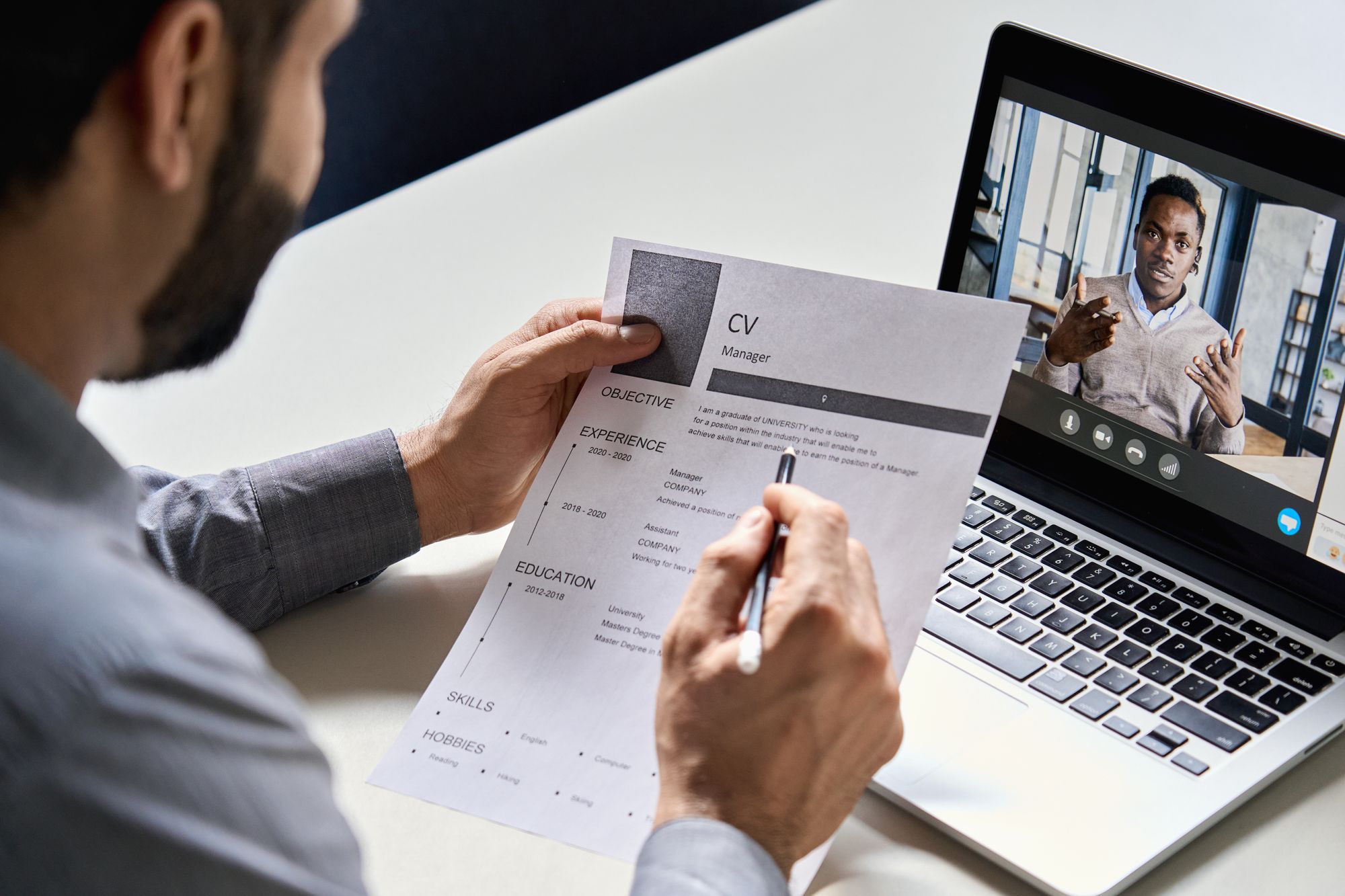 Recruiting a remote software developer is no different.
Too often, hiring managers focus on what they should do and neglect familiarizing themselves with the common traps recruiters fall into that they must avoid at all costs.
Let's break down three of these recruitment mistakes:
Narrowing your job search prematurely: As a hiring manager who is pressed for time, it seems logical to be as specific as possible with your talent search. That way, you filter your applicants before they even express an interest in joining your remote team. However, this isn't always a solid practice, much less when it comes to hiring software developers. Granted, if you require your developer to be fluent in a particular programming language, be sure to say so in your job description. However, most mention that developers who lack years' worth of experience shouldn't apply to the post. This way of thinking prevents you from tapping into a pool of developers who lack experience but who are more than capable to prove themselves and grow in your role.
Ignoring the demands of remote collaborations: Working in a remote environment demands higher levels of autonomy and independence among team members than in a face-to-face working environment. Some hiring managers look at the resumé and assume that the candidate is a match for the job because they have a solid background. However, their background in a face-to-face work environment doesn't always translate into a stellar remote culture. Be sure to evaluate your candidate's level of autonomy before bringing them on board your team.
Failing to check references: Don't forget to do your checks and balances when hiring a remote software developer. Some hiring managers rely on the interview and a candidate's background to gauge how apt they are for a role. However, some applicants are dishonest and misrepresent their curriculum. Do your due diligence and double-check their references to avoid any hiring mishap that crops up lower down the line.
Hire a Remote Software Developer Today

Deciding to hire a remote software developer for your company is a serious task that you must never take lightly.
This guide equips you with the knowledge to sharpen your hiring efforts and secure the best talent for you.
Call Jobheron at 0203 745 3552 to optimize your hiring funnel, maximize the impact of your job adverts, and speed up the rate at which you hire talented software developers.