Curious to learn what the average software developer salary is at a startup company?
Then you've come to the right place.
Over the last few years, companies all over the world have continued to ramp up the demand for software developers. Now, the need for these specialists is at unprecedented heights.
2021 saw software market revenues in the United Kingdom climb to an estimated 30B according to Statista, a significant increase compared to the 27.2B recorded in 2018. As business leaders continue to invest in the SaaS market, recruiters must understand the factors that influence their hiring process.
This post discusses the average software developer salary for startups and shares key insights on the factors that influence salary offers for software developers in the United Kingdom.
We also dive into strategies that startups in the U.K use to speed up the pace at which they connect with competent software developers and bring them on board their team.
Let's dive right into the discussion.
Average Software Developer Salary for Startups: Overview
The average software developer salary in the United Kingdom is £31,139/year as of March 2022, according to data shared by Payscale.
That said, PayScale does not specify the exact salary bands that correspond to those software developers who work at startups.
Glassdoor, on the other hand, shares data on startup software engineers in the United Kingdom, reporting that they earn an average of £52,554 a year.
Credits: Glassdoor
While the two positions are similar, software engineers are different from software developers since the former denotes a more senior and technically-demanding role than the latter.
This begs the question: how do we figure out what startup software developers in the United Kingdom earn?
While sources lack the data from startup recruiters to provide that exact figure, we examine the data they share to make inferences that paint a better picture of how much these professionals take home. Let's break down those sources one by one.
PayScale
Apart from average salary estimates, Payscale goes on to report that software developers earn as high as £50K each year while on the lower end of the spectrum, some companies compensate them with salaries of £22K per year.

Credits: PayScale
PayScale also indicates that apart from base salaries, some software developers benefit from bonuses, profit sharing, and commissions as part of their compensation package.
Most startups lack immediate capital and massive revenue predictions to offer competitive salary offers to software developers. For that reason, it's safe to assume that most recruiters at startups pitch their software developer salaries towards the middle-to-lower-end estimates on the base salary scale. This means that most startups in the United Kingdom pay software developers a salary that falls within the range of £22K/year and £31K/year.
That said, startups tend to compensate for the low salary wages they offer to their employees by offering them a slew of perks. These include:
Discounts for mental health and wellness activities (such as yoga, meditation, gym membership)
Choice to purchase shares in the company
Flexible working hours
Travel allowances
Reed
Unlike PayScale, Reed is a salary checker resource that offers more optimistic salary estimates for software developers in the United Kingdom. Based on the data they've collected, the company calculates the average salary to be £47,104/year. They go on to report that the salaries that software developers in the U.K earn range from £38,159/year to £64,541/year.
Credits: Reed
With that in mind, according to Reed, we deduce that most recruiters looking for a software developer for their startup pitch salary offers between the £38,159/year to £47,104/year range due to the financial constraints that startups face. This is higher than the estimates shared by PayScale.
That said, while Reed does suggest higher base payouts for software developers than stats shared by PayScale, this salary checker does not separate base salaries from additional forms of compensation, such as bonuses and profit-sharing options.
Therefore, one may argue that the higher payouts recorded by Reed are inclusive of additional perks and benefits as part of a complete compensation package as opposed to just a base salary estimate.
DOWNLOAD THE ULTIMATE HIRING CHEAT SHEET FOR FREE →
What Factors Affect Software Developer Salaries?
While the average software developer base salary in the United Kingdom varies from source to source, it is undeniable that these professionals fall within different pockets on the salary spectrum. Some pull in more than the average salary while some earn less.
There is a myriad of factors that influence the different salary deals that software developers accept.
Let's take a closer look at each one of those factors.
Location

The location of the software developer you hire is one of the most significant factors that determine how much your startup has to compensate your newest dev team member.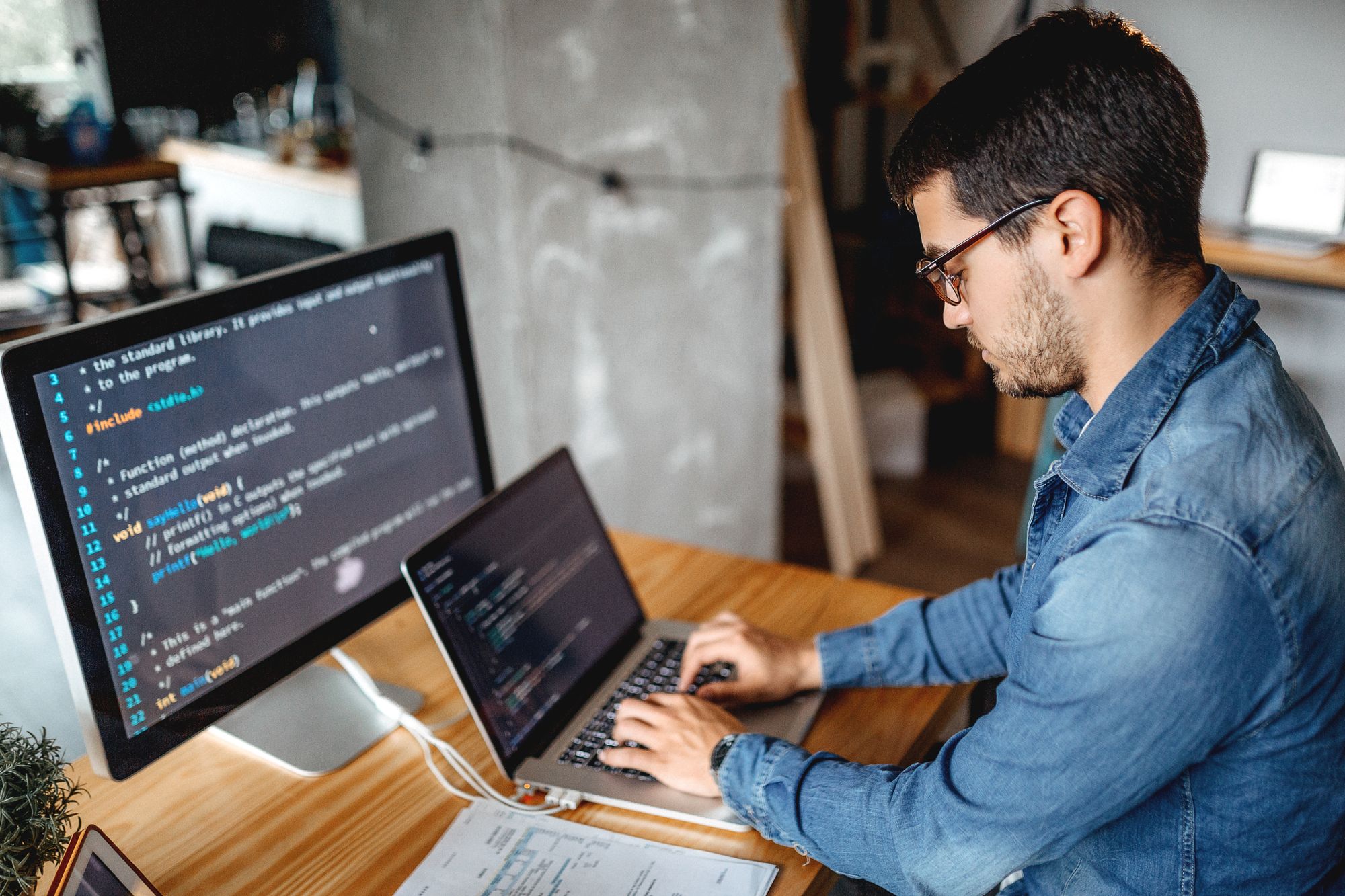 The cost of living across the United Kingdom varies from city to city. Mirror.uk named Winchester as the most expensive city in 2021. As a result, a software developer based in Winchester commands higher salary wages than one who works at a startup in Perth, Scotland.
In the same vein, startups that hire software developers based in London or Cambridge have to offer the candidate more competitive salary packages than those who recruit talent from Bradford or Doncaster.
Technojobs.uk provide the following salary estimates for entry-level software developers based on location:
London: £35,000/year
Cambridge £30,000/year
Edinburgh £28,000/year
Manchester £26,000/year
Given that these salary offers correspond to those awarded to entry-level software developers, startups follow suit by pitching salaries that fall within those ranges based on the city they hire from. This is because most startups target those software developers who accept lower-end compensation packages.
Skills
A software developer's skills play a crucial role in the salary packages that recruiters pitch to them.
That said, it's not just about offering higher wages because your candidate has a Bachelor's or Master's degree. Rather, it's all about offering more competitive salary packages to those software developers who have the combination of skills that are vital to product development within your startups.
PayScale highlights some of those skills that recruiters value when scouting for potential software developers:
NoSQL
Apache Spark
Clojure programming language
Redis
Leadership
Algorithm
Hibernate
Financial modeling
ScrumMaster
Apache Hadoop
Although startups tend to go for the most affordable employees who have the skills to get the job done, from time to time recruiters are willing to make an exception. This is all the more true for hiring managers working at startups that handle complex technologies and software.
In such cases, they need software developers who have a particular skillset and line of experience that helps guarantee successful product development.
That's why it's common for employers to pitch more competitive salary packages in an attempt to attract the talent they need to offer the services that help drive the startup's growth and contribute to its success.
DOWNLOAD THE ULTIMATE HIRING CHEAT SHEET FOR FREE →
Programming Language Fluency

Among the list of technical proficiencies that require special mention when discussing salary offers is a software developer's fluency in a given programming language.
While these fall under the category of skills, programming language proficiencies deserve particular mention since they are a dealbreaker for startups and potential candidates alike during the talent scouting and hiring processes.
No two products are the same, much less in the SaaS industry. Some rely on complex programming languages that are difficult for software developers to master.
Hiring managers at startups need software developers who know how to use one or more programming languages to deliver a given solution. The more popular, complex, and challenging it is to master a programming language, the more software developers demand in terms of wages.

Credits: PayScale
PayScale shares that software developers who provide Java-based services earn more on average than those who work with JavaScript and C# programming languages.
As a recruiter, you must craft salary pitches to software developers that reflect the value you place on their skills in a programming language and the importance of their contribution to your company.
#1 Tip for Hiring Software Developers in the United Kingdom
Figuring out the salary pitches you must offer a potential software developer is only half the battle.
Here is the best strategy that we recommend hiring managers practice when sourcing talented software developers for their companies.
Partner With a Talent Acquisition Specialist
Handling the recruitment process on your own is a tough challenge for any business.
Not only do hiring managers have to figure out the best salary pitches that attract the right talent, but they also have to source talent on their own.
As an employer, the difficulties with sourcing talent are endless:
Inability to maximize reach: Hiring managers have to contend with the challenges of having to post a job advertisement that lacks the ability to reach a wide audience. As it stands, most recruiters leverage job boards to promote vacancies at their companies. This forces them to post a single job advertisement across multiple job boards all at once. Apart from being time-consuming, this also increases the chances of you missing out on a potential candidate who is the perfect fit for the job.
Tedious preparation of job descriptions: Yet another time-consuming task is rewriting job descriptions for an advertised post. Most hiring managers lack the time to dedicate to revisiting job descriptions and coming up with the right copy that best captures what they expect from a candidate.
Time-consuming to find talent: Due to the constraints and limitations of internal recruiting, companies find that it takes a significant amount of time to bring talent onboard their teams. Not only does this stunt productivity, but it also jeopardizes a business' ability to meet its goals ad objectives.
The easiest way to solve this headache is to team up with a recruitment service that speeds up the rate at which you acquire top talent for your business.
Jobheron is an example of such a modern service that hiring managers across the U.K have been using for the last few years to source talented software developers as dedicated team members.
Our services simplify the recruiting process for internal recruiters and give them the extra time to focus on other areas within their company that matter:
Maximize your talent reach: Our job posting services reach more than 90% of job seekers in the United Kingdom.
Shorten your recruitment time: Jobheron has an average role fill time of as fast as 21 days.
Competitive recruitment service packages: Startups have the ability to choose from one of three affordable campaign packages to find the best talent for your software needs.
Discover our pricing package and join the thousands of hiring managers who are saving time, money, and resources on their hiring efforts thanks to Jobheron.
Average Software Developer Salary For Startups: Key Takeaways
Figuring out the average software developer salary for startups is a step in the right direction for any business looking to bring talented professionals as part of their teams.
But that's only the tip of the iceberg. Hiring managers must go beyond the surface and tackle the real challenges of hiring software developers.
Startups in the U.K work their way around these challenges by partnering with recruitment services like Jobheron to get the job done faster and at an affordable cost.
Give us a call at 0203 745 3552 or email us at enquiries@jobheron.co.uk to find out how your recruitment processes stand to benefit from a partnership with JobHeron.