When you're working with a tight hiring budget, posting on free job boards can be a great first step to minimising costs.
Luckily, there are several job board sites where you can advertise your vacancies for free.
From the big name free job boards, such as Indeed and LinkedIn, to the more niche recruiting sites, here is our list of top UK job sites for posting a job ad for free!
The Best Free UK Job Boards
Here's a list of free UK boards we'll cover:
Indeed
LinkedIn
GoogleJobs
PostJobFree
Jora
WhatJobs?
Facebook
ZipRecruiter
Glassdoor
Adzuna
FlexJobs
AngelList
Indeed
Indeed is one of the world's leading job search engines, with over 250 million people visiting the job board every month.
Employers are able to post a job advert on Indeed for free with no bank or credit card details needed. Plus, you can even use their applicant tracking system at no extra costs to track your candidates, screen resumes, and arrange your interviews.
That said, Indeed does provide the option to sponsor your job posting, which will improve the visibility and performance of your ad.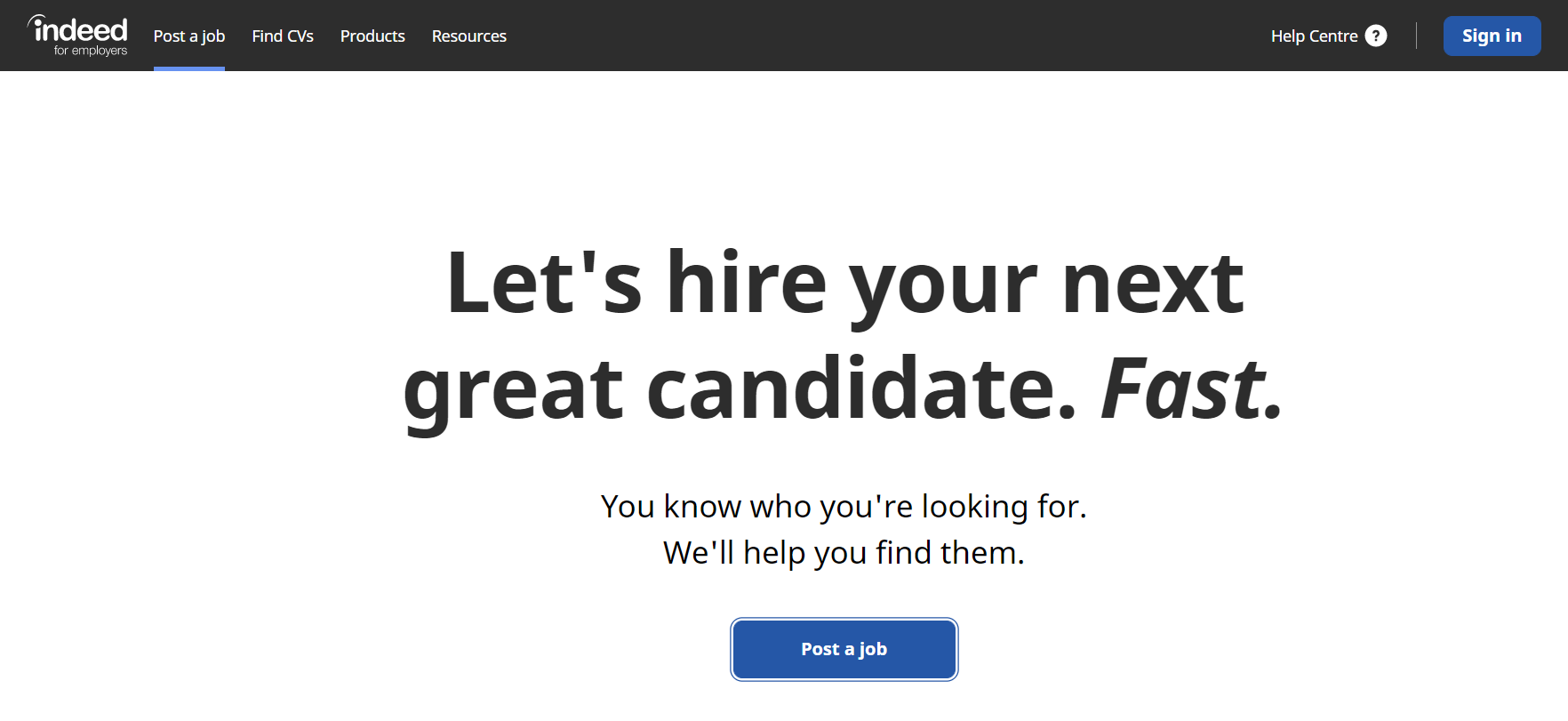 Linkedin (Company Page)
LinkedIn is one of the largest growing professional social networking sites, and is useful for connecting with other professionals or accessing a vast talent pipeline.
To post a free job, you need a LinkedIn Company Page for your business. Then, you can easily upload job postings for free, and even have the option to add screening questions to prevent irrelevant applications.
Again, it is possible to create sponsored job ads by setting a daily budget to increase the amount of views your posting will get.
GoogleJobs
GoogleJobs uses algorithms to effectively categorise and index job descriptions from employer's career pages to list them on its search engine.
GoogleJobs is not quite as straightforward as other free job sites due to the search engine's indexing and algorithm needs. But, it's still a very convenient tool for free job advertising.
There are two main methods for posting job ads on GoogleJobs; using a third-party job posting platform that is already integrated with GoogleJobs or integrating your job listing directly onto GoogleJobs.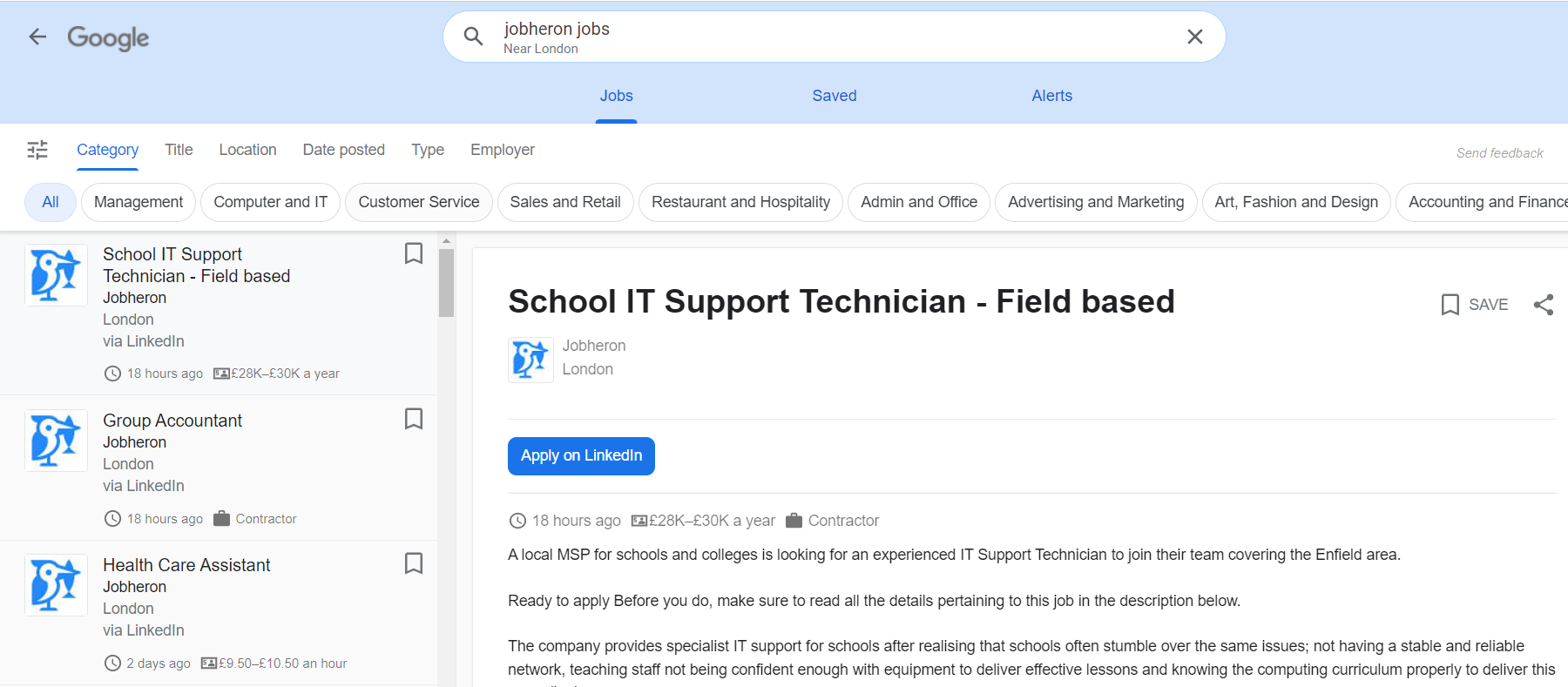 If you're not much of a techie, we'd definitely recommend using a third party platform, as it does not require you to have a working understanding of search engine indexes. However, if you are up for the job, here is a handy guide on how to integrate with Google directly.
Facebook/Meta
Whilst Facebook is not traditionally known as a job board, this popular social media platform is used by roughly 2.9 billion people, giving employers a vast audience to advertise to.
After creating a company page, employers can post their adverts for free using Facebook's public job board available on Facebook Business Suite, or they can opt to upload their job posting as an advert and boost it by setting a daily budget.
Glassdoor
Glassdoor is an interesting site in that it doubles as both a job board where open positions are advertised and an online company review site where job seekers can look into a prospective employer.

In partnership with Indeed, Glassdoor offers hiring managers the chance to post free job listings on their platform for a limited time. After that, you can increase the exposure of your open job role by creating a sponsored ad to be featured across several job boards from around £149 for 30 days.
Adzuna
Adzuna is one of the more well-known job boards out there, receiving tens of millions of candidate visitors every month.
This multinational career site aggregates job listings from other major job boards whilst also using smart matching technology to guide quality candidates to job opportunities and vice versa.
Adzuna offers hiring managers the chance to post a limited number of job posts for free for 30-days. They also allow employers to integrate their own site with the Adzuna job feed to direct any interested candidates straight to your company page.
AngelList
AngelList is a job site aimed specifically for startup and tech companies looking for investors or top tech talent to recruit.
This niche job board allows UK employers to post unlimited remote tech positions anywhere in the world at no cost whilst global hiring managers are able to post local job vacancies for free.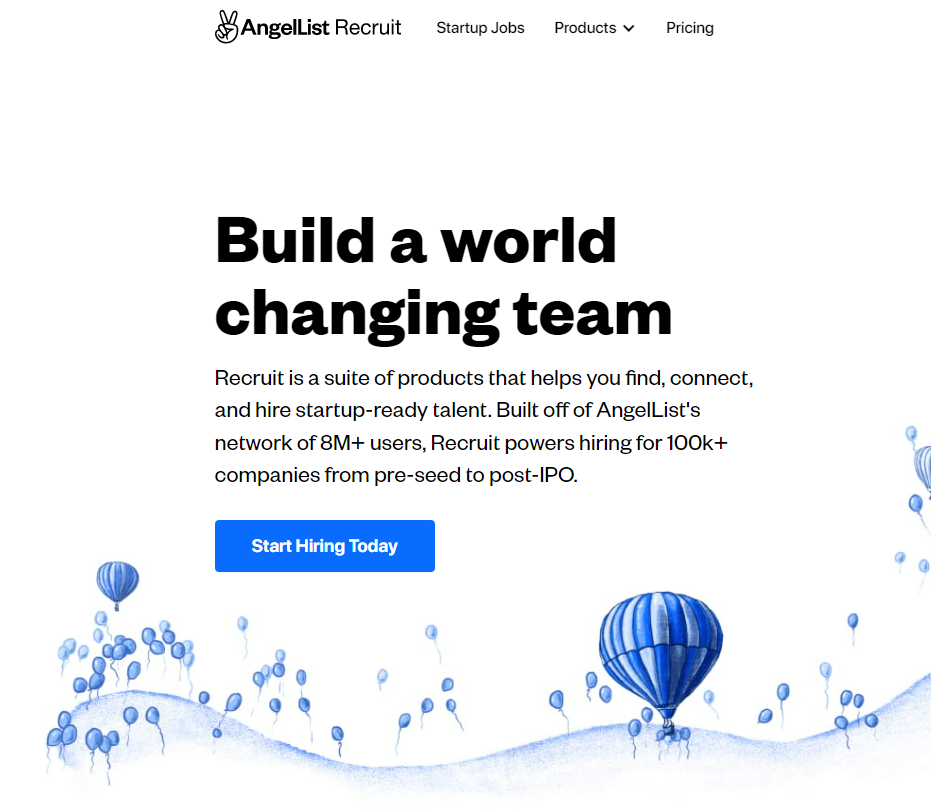 With over 2 million high-quality candidates on their database, if you're looking for your next web developer, AngelList is the place to go. Plus, their Paid Pro plan includes a 7-day free trial so you can get a feel for their services before you commit.

PostJobFree
PostJobFree is a job posting service that advertises your job ad on other job boards, such as Indeed and ZipRecruiter.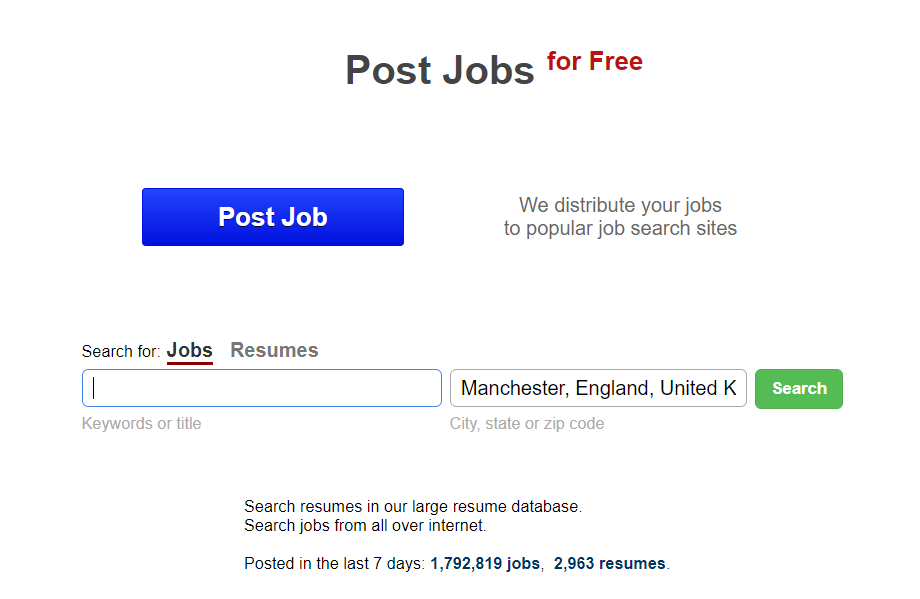 Whilst there is a premium subscription service which allows you to access more exclusive features - such as unlimited resume reviews and candidate information -, the free service is also more than capable of meeting your hiring needs.
With the free membership, you are able to search their vast database of over 1 million CVs, set up resume search alerts, and more.
Jora
Jora is one of the leading global free job posting sites that can be used as both an aggregator site and a job board in its own right.
Incredibly easy to use and available as a mobile app, Jora offers users ten free listings per month, giving employers plenty of opportunity to try out this platform at no charge at all.
However, to increase visibility, employers can boost their ad. Quotes for sponsored ads vary and those wishing to create them need to fill in a form to obtain a personalised quote.
WhatJobs?
Whatjobs is a global job search engine and aggregator website for job seekers in the UK. Employers are able to post job listings via WhatJobs? to advertise over their 500 partner sites, including Google for Jobs and ZipRecruiter.
Whilst they offer basic free job posting options, for more advanced features, WhatJobs? offers a cost-per-click plan that can be worked out with an account manager.
ZipRecruiter
ZipRecruiter is one the world's leading career sites and is the most popular job board in the USA. It is also the #1 rated job search engine app on Android and iOS, with over 7 million active job seekers using their mobile app every month.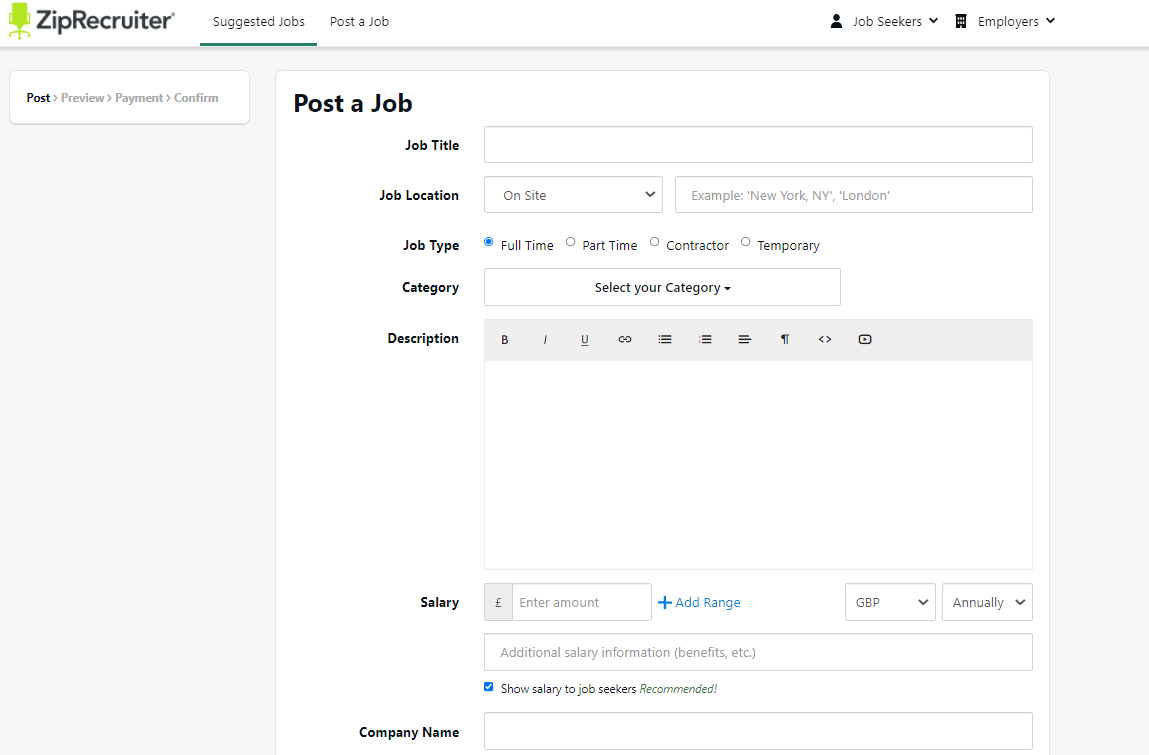 ZipRecruiter allows hiring managers to post one job opening over multiple boards at the same time to gain maximum visibility. That said, you only get one free job post on ZipRecruiter, and after that you will need to pay a monthly fee.
Whilst these plans can get a little pricey, they do offer customised plans based on the number of job vacancies you need to fill, your industry, and your location, to name a few factors.
FlexJobs
FlexJobs is a very popular free job advertising site for finding qualified candidates that are working remotely.
They allow you to post up to 5 job listings to their database before they ask for any payment, and they offer pre-screening features for ensured quality.
This option is particularly useful if you're recruiting for flexible or part-time roles, and don't want to receive hundreds of irrelevant applications.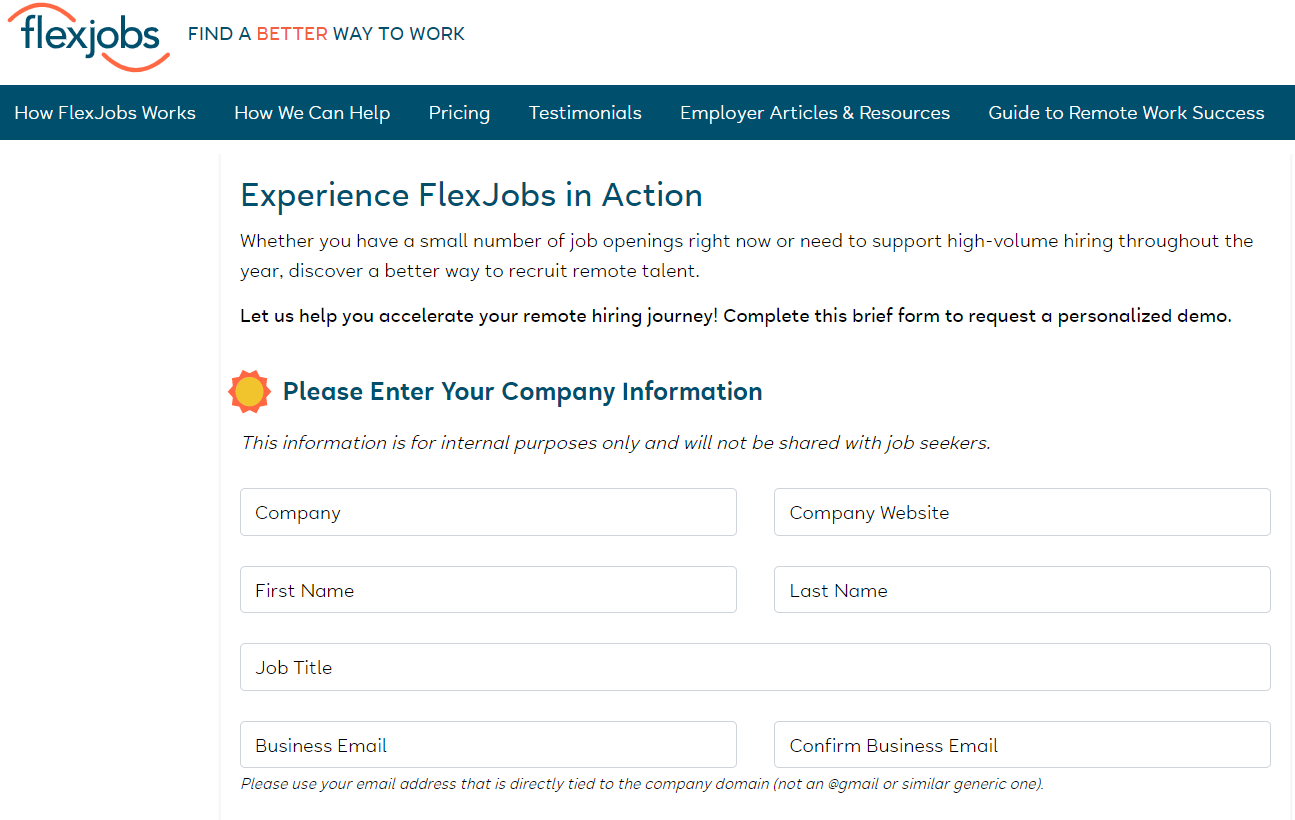 The Drawbacks of Free Job Boards
After reading our list of free job boards, maybe you're thinking 'why would anybody waste their money by uploading their ad on a premium job board?'.
But, before you start your hiring journey, it's worth knowing some of the drawbacks of using free job boards:
Less visibility
As mentioned, most free job board sites offer a paid alternative that allows users to boost their advert up to increase visibility.
This means that, without paying that extra price for a sponsored ad, you might find your free job ad getting pushed down the ranking. Not only will this leave you losing out on a lot of potential candidates but it'll also mean waiting longer for any suitable applicants to come along.
Miss out on quality talent
Most UK jobseekers use premium job boards, such as Reed.co.uk, Totaljobs, Jobsite, Monster, and CVLibrary, meaning that most free job boards don't attract as much talent.
Whilst certain premium job boards offer free postings as part of their service, such as Indeed and LinkedIn, most hiring professionals would recommend posting across several major sites to make the most of your recruitment strategy.
Not ideal for hard to fill roles
If you have a difficult vacancy that requires specific expertise, using a free job board may not be all that useful.
With limited reach and exposure on free job boards attracting niche candidates can be a struggle and affect your ability to hire.

DOWNLOAD THE ULTIMATE HIRING CHEAT SHEET FOR FREE →
How to Access Premium Job Boards at an Affordable Price
Free job boards might offer value for certain roles, but premium paid job boards are crucial for increasing your job advert's visibility and effectiveness, as well as giving you access to more quality candidates.
But, premium job sites can be expensive, especially if you want to reach more talent by posting on multiple premium job boards.
This is where a service like Jobheron can help. We feature your job advert on all the top UK job boards for one affordable fixed price of just £399 per role.
Here are the three reasons to consider Jobheron when you're next recruiting.
Save money
We'll feature your ad on all the main job boards for one affordable cost.
At Jobheron, our service starts from only £399 per role with no hidden costs or charges, saving you thousands compared to a traditional agency.

Faster recruitment
Companies using Jobheron hire faster, with an average time to hire of only 21 days.
Plus, you'll save 6 hours per role with our job ad writing and CV screening service included in the price of every campaign.
Access more talent
Jobheron advertising service will help you reach over 90% of all active job seekers.
We will feature your job ad on all the top UK job boards including Reed.co.uk, Jobsite, Indeed, TotalJobs, Monster, Linkedin, Adzuna, Glassdoor, GoogleJobs and more, helping you reach the best candidates on the market.
For more information on Jobheron's advertising service and to discover if we are a good fit for your company's hiring drop us a line on enquiries@jobheron.co.uk or 0203 745 3552 now.