Looking for advice on how to conduct the perfect Zoom interview?
Smart choice.
Virtual interviews have become the preferred choice for hiring managers in a post-COVID 19 world.
With Zoom and its video features being recognized for enhancing the virtual meeting experience, recruiters continue to leverage it as the go-to platform to offer seamless interview experiences.  
But how must hiring managers conduct seamless Zoom interviews to make the most of their recruitment efforts?
Discover the answers in this article as we share eight (8) pieces of advice that hiring managers must follow to get the most from their virtual interviews on Zoom.
Let's get right into it.
Brief your Candidates on the Format and Structure of the Zoom Interview
Ever gone into an interview as a job applicant feeling unprepared?
It's a horrible feeling.
So why would you as a hiring manager do the same to your applicants?
You shouldn't.
That's why before starting the interview, you must provide candidates with a detailed brief that outlines the format and structure of the hiring process.
Don't stop at just letting candidates know the format of the interview or just the time and length of the entire process.
Instead, prepare something that details the features in Zoom that candidates have at their disposal during their interview.
Let applicants know that they have the option to share their screen and showcase a relevant document or presentation if it helps to enhance their appeal as a candidate.
Let them know they can use the Zoom In-Meeting Chat in case they want to share files or resources with you and vice-versa.
Your goal is to provide candidates with all the information they need on the structure and format of the interview to help them prepare and succeed.
Not sure how to increase your talent search and access a wider pool of applicants for your job advert? Jobheron has worked with thousands of hiring managers to get them more talented candidates for their job interviews at a fraction of what recruitment agencies charge. Give us a call at 0203 745 3552 to find out more about how you can benefit from our innovative hiring solutions today.
Anticipate Technical Challenges and Prepare for Them
Ever heard the saying 'hope for the best, but prepare for the worst?'
Conducting a Zoom interview is no different.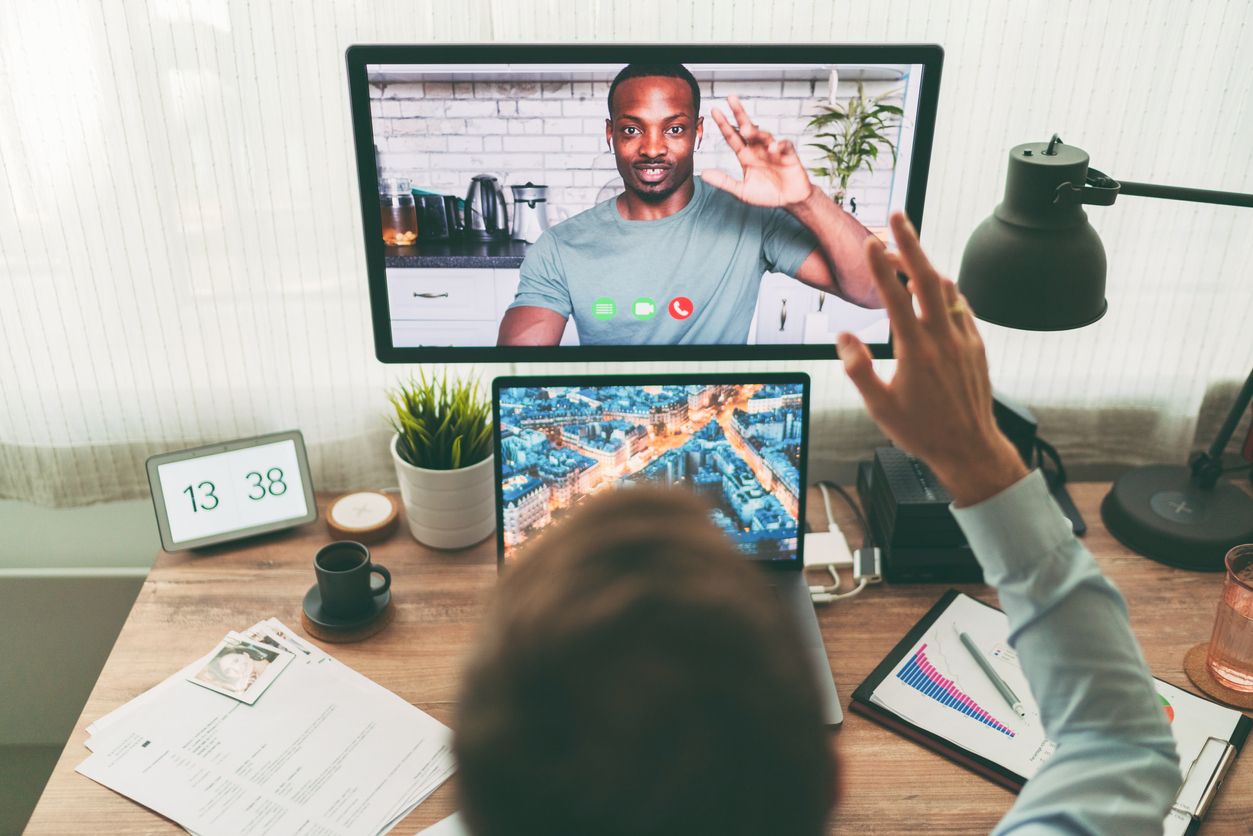 Let's face it: once you're dealing with technology, something will go wrong at some point or another.
Ensure that you (and where possible your applicants) have optimal, stable internet connections. This helps to reduce the chances of having poor video quality, delayed dialogues, or anything that compromises the quality of your Zoom interview.
If possible, wear a headset formatted to reduce background noise. Encourage your candidates to do the same if they are in a noisy area or if their microphones are sensitive to sound.
Test your audio and video ahead of time to make sure that everything is in order for your interview.
Be sure to share mobile numbers so you can quickly call each other in case something goes wrong with the Zoom meeting.
But above all, be understanding with applicants when these challenges crop up since these kinds of technical difficulties are out of their control.
Allocate Time for the Unexpected
Expecting the unexpected doesn't only apply to technical mishaps that may come up during your Zoom interview.
Instead, be prepared for any and everything that may disrupt the interview process.
For example, if your candidate has children, they may have a family emergency to attend to for a minute or two.
Likewise, if they have a pet dog, from time to time they may have to avert their attention from you to deal with whatever situation their dog has caused.
Avoiding this is impossible.
Therefore, instead of chastising applicants for circumstances that are out of their control, be sure to factor in extra time than normal to conduct the interview.
That way, you allocate for these setbacks ahead of time and give yourself enough room to conduct the interview if one or more of these challenges occur.
Prepare Job-Specific Interview Questions and Answers
Whenever you're preparing to hire someone for a job, you must dedicate time to preparing a list of job-specific interview questions.
That said, too often hiring managers focus on the questions they'd like to ask candidates. Seldom do they prepare the kinds of responses they expect to hear from applicants.
For every question you intend to ask, do a quick online search for possible answers. If you don't come up with any, put yourself in an applicant's shoes and ask yourself 'how would I best answer this question?'

Once you do, jot down the best possible responses as well as the answers that raise red flags.
That way, you'll be on the lookout for the kinds of responses that top candidates give so you can filter applicants accordingly.
Prepare Tailor-Made Questions for Specific Candidates
Every hiring manager knows that they must have a list of questions on hand to ask applicants during their interview.
Yet how many prepare specific questions for an applicant based on their profile or background?
Few.
Take time to review your applicant's qualifications, professional certifications, and job experiences. Consider framing questions around how their academic pursuits helped them build the skills needed to take on a position in your company.
Don't be afraid to ask them about the challenges they've experienced at other businesses and how they hope to have a different experience working in your company.

The key is to use their profile to inform your understanding of who they are and ask the right questions for their interview.
Create a Healthy Interview Environment for Your Applicants
The best hiring managers understand how important it is to craft an environment in a job interview that allows applicants to shine.
While hosting virtual interviews has complicated traditional tactics that hiring managers use to create this atmosphere, there are still cues that you must incorporate in your Zoom interview to achieve the same effect.
These include:
Maintaining eye contact with applicants while they are speaking
Appearing interested in their responses to your interview questions
Asking relevant questions based on their comments
Smiling, nodding your head, and other positive body language cues as a sign of encouragement
Allowing them to share their screen to present something where necessary
Showing empathy and understanding when unexpected problems or challenges crop up
No doubt these help applicants to relax and give the best of themselves.
Use Zoom Annotation
When conducting a virtual interview, there's bound to be a time when you'd like to stop a candidate and ask a pertinent question about what they've said.
If you do that on the spur of the moment, chances are you'll mess up the flow of the interview and make the applicant more nervous than they have to be.
The solution?
Wait until the end of the interview to ask specific questions.
Don't worry: if you're afraid you'll forget the questions you wanted to ask, take advantage of Zoom's Annotation tool.
This in-meeting product feature enables you to take notes on your screen during a video conference and go back to those moments at a later point in time.
That way, you'll have a record of whatever it is you wanted to ask or say to your applicant.
Maximize Your Company's Logo & Branding
As a hiring manager, your goal isn't just to interview candidates; it's also to paint your company as an attractive, professional hub where talented people enjoy their job and grow their careers.
What better way to show your company in that light than to incorporate your company's logo and branding in the interview?
Change your video background to your company's logo or brand colors. Make sure that your Zoom profile picture reflects something about the company. If your company has a branded t-shirt, wear it during the interview and make sure your applicants see it.
While these little changes may seem small, they go a long way in showing applicants that your company is serious about who they're hiring. This will make sure candidates put their best foot forward to impress you and stand a chance at landing that vacancy.
Zoom Interview Tips: Key Takeaways

Hosting a decent Zoom interview isn't a walk in the park.
Yet by no means does it have to feel like pulling teeth.
This curated list of tips helps hiring managers like you to conduct seamless Zoom interviews and make the most out of this tool in your hiring processes.
Once you've done your interviews, use interview scorecards to grade candidates and speed up your applicant selection process.
If you're not satisfied with your current list of applicants, call Jobheron at 0203 745 3552 and let us know about your hiring needs and desired profile.
We work alongside you to get you the kind of talent you need in your team to help your company achieve its goals.
Learn how to take your hiring efforts to the next level and land the right candidates you need for your next Zoom interview today.