When the pandemic put us all in lockdown, most businesses were forced to adopt remote working to stay afloat.
As it turns out, most employees prefer the flexibility of working from home, with around 75% of workers now expecting some kind of remote working arrangements to become a standard practice. Plus, employers felt the benefits too. Team productivity went up and costs went down.
That said, a whopping 97% of employees have stated they would prefer a hybrid working model, as it still offers many of the perks of remote working whilst also giving staff a chance to work together in a collaborative space. However, hybrid working requires a bit of planning.
To help you figure it out, we've put together our top six tips for creating the perfect hybrid workplace so you can keep your employees happy and your business thriving.
What is a hybrid workplace?
A hybrid workplace model operates on a combination of both home and office working. This more flexible working arrangement has seen a huge uptake in the post-pandemic climate, with studies revealing over 76% of companies have opted for some kind of hybrid work model.
What are the main benefits of hybrid working?
Better work–life balance for employees
Reduced absences
Saves money on office space
Increased team rapport and social connection
Better competitive advantage when hiring new talent
Higher employee satisfaction
For many, this best-of-both-worlds model offers the flexibility of home working without the full sacrifice of working and socialising with workers in the office. It is also an incredibly versatile working model, as businesses can decide what hybrid working structure best benefits them.
For instance, some companies may operate on a 60/40 split between office and home, whilst others may have no formal office space and will instead ask employees to only meet for important meetings at coworking sites.
Whichever arrangement you opt for, it's important to consider and tackle any arising challenges that hybrid working can incur.
6 Steps for creating the perfect hybrid working model
Understand your employees' needs and wants
As with any major changes occurring within your business, you should always consult your employees. Ask your workforce what working arrangement suits them best and why.
You may find your workers have very different working styles and preferences, giving you better insights for designing a successful hybrid work environment that works for all employees company wide.
However, this stage is more than just asking your employees what their working preference is, it's about considering and accommodating their needs. Some people work best in fully remote working situations for an array of reasons such as, they have caregiving duties, they have disabilities, or they live with chronic pain.
On the other hand, some team members may find the isolation of working from home full time to have a negative impact on their mental health. Therefore, it's important to outline the needs of your staff so you can make sure nobody is going to be at a disadvantage with the upcoming changes.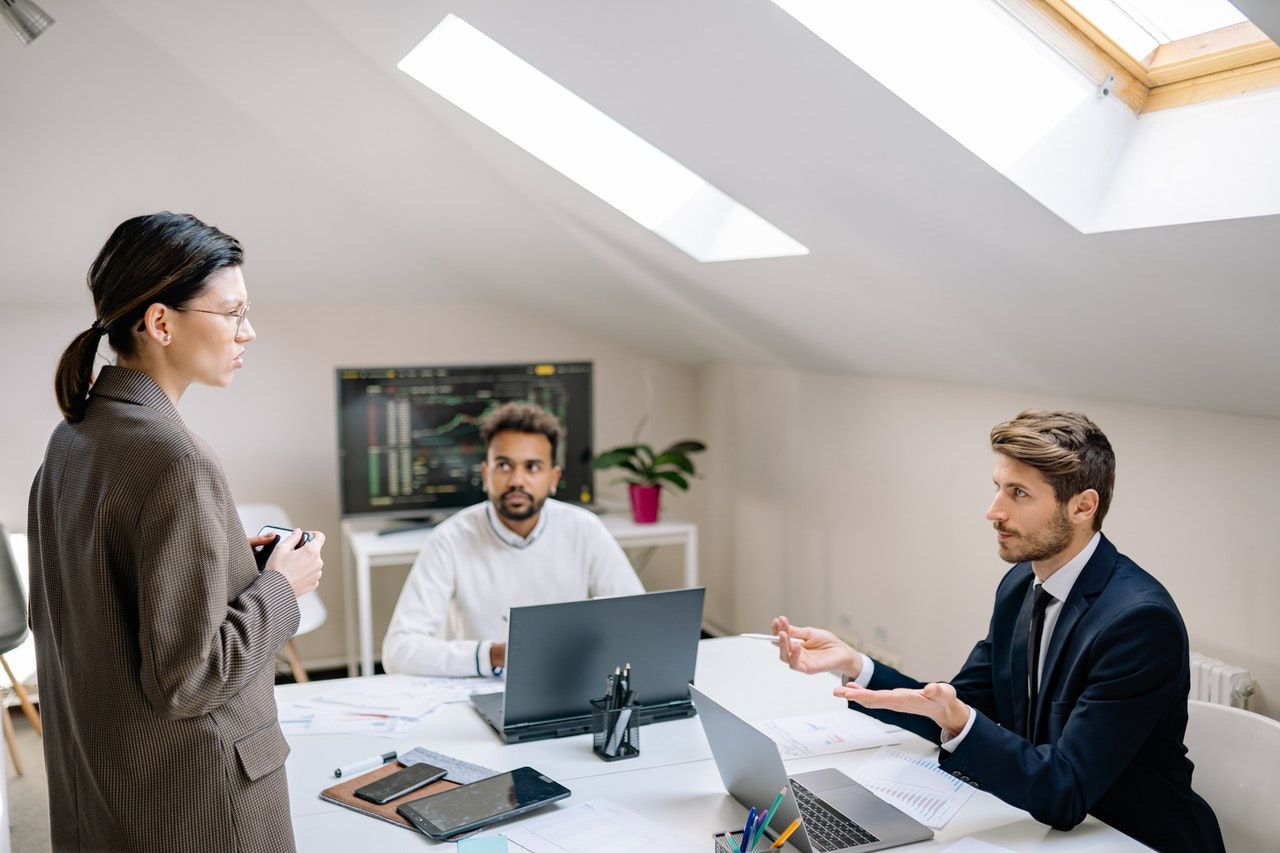 Put together a solid workday schedule
If you're planning a hybrid working situation, you'll need to create a schedule. This means determining which days your employees will be in and out of the office. This can sound a little bit complicated, but that's because, unfortunately, it is. How you set this schedule depends on a variety of factors:
How many workstations you have at your disposal.
Your employee's working arrangement needs/preferences.
The type of work employees are doing (e.g. office exclusive duties or tasks easily completed from home).
How big is the office or coworking space your business operates in? The answer to this will determine how many people can be in the office at one time and avoid problems that could arise when employees set their own days. For instance, if everybody chooses Monday to WFH, the office will be empty and if everybody chooses Friday to be on-site, there may not be enough office space.
This issue can be resolved by considering your employee's WFH preferences. It's unlikely that every employee will want to be in the office for 3 days a week. Take note of how many office days each worker would prefer and use this information to figure out who comes in when.
Finally, however, your hybrid workplace strategy also depends on the nature of your employees' responsibilities. Are there some tasks which need to be done in an office environment? Or, are some people capable of performing their role fully remotely? This can help determine who needs to be at the office when and how frequently.
Focus on making communication easier
One of the leading challenges caused by hybrid working is poor communication. In fact, nearly 60% of hybrid workers claim they've missed out on critical information as it was communicated to those in the office during one of their remote workdays.
Connecting your team is key to building your new hybrid work environment. Plus, being clear on how you want your teams to communicate with one another is equally important, as staff need to be informed which platforms to use to get in touch with managers and co-workers regarding different issues.
Here are some ways to maintain strong communication between your hybrid working employees:
Use business communication platforms - Professional messaging services, such as Slack, are great for ensuring consistent and quick communication between remote workers and their office-dwelling counterparts, and can help harbour a friendly dynamic.
Invest in project management tools - Apps, such as Asana or Monday.com are essential for keeping teams coordinated on projects wherever they are, and informing them of each others' work schedule.
Conduct daily meetings - Ask your managers to conduct daily department check ins with their team that are dedicated to making sure everybody is on the right track and knows what their tasks for the day are.
Host company wide events - There may be some remote and office employees that don't ever cross paths due to their schedule, so try and create ample opportunity for everybody to meet each other with social gatherings.
Build a positive remote company culture
In a recent study, 30% of business owners claimed their biggest challenge when managing a hybrid workforce was maintaining a strong company culture. When your team doesn't regularly share a workspace, building a team culture of togetherness and positive values can be difficult, but not impossible.
Focus on aspects of your company culture that are not related to the social side of office working, such as employee benefits, inclusivity initiatives, and salary, as these all have a major impact on the employee experience.
Good employee benefits are particularly appreciated by staff, with over 80% of workers reporting they'd prefer generous perks over a pay rise.
However you choose to build your remote team culture, remember to offer the same level of role enjoyment for both office workers and remote employees. This could be through offering different perks exclusively for office days, such as lunch vouchers, and for WFH days, you could offer an extra half an hour of wellbeing time.

FREE DOWNLOAD - RECRUITMENT SECRETS E-BOOK →
Ask for feedback from your workforce
When it comes to planning the perfect hybrid work model, the only people who can definitively say if it's successful or not, is your workforce. That's why regularly asking for feedback on your employee's hybrid workplace experience is the most poignant step you can take.
You can do this a variety of different ways:
Send out monthly surveys - Include questions about office/remote working challenges to find out if any areas of your hybrid model can be addressed and improved.
Weekly check ins - Ask managers to conduct a brainstorming session with teams to see if any improvements can be made to your hybrid working process.
Track this feedback - Measure factors such as employee engagement, employee productivity, and wellbeing through these check-ins that you can review on a regular basis.
However you decide to gather your feedback, make sure you incorporate it into your strategy. Companies that focus on supporting the employee experience through flexible initiatives and better employee-employer dynamics see better staff well-being and produce 21% more high performers.
Be flexible!
Maybe it's an obvious point that in order to create a successful hybrid environment, you yourself need to be flexible. But, it's still worth noting!
It's important to understand that what you set out at the beginning, may not be how your hybrid working structure ends up as. So try not to cling on to any grand plans you might have made.
There are a whole host of reasons you will need to re-evaluate your plans and change how you've set out your hybrid model, such as employees having different preferences about hybrid working or some wanting to return sooner than others.
Being open to adapting your hybrid model will help you combat any issues that arise and will guarantee your employees feel heard.
The final takeaway
A great hybrid workplace requires a people-first strategy that can address and adapt according to different employee needs. A successful hybrid model is supposed to empower your workforce to perform at the best of their abilities, by offering them the flexibility of home working and the dynamic of office working.
It's up to you to unlock the potential of hybrid working by ensuring that each step you take prioritises the happiness and safety of your workforce. Only then, can your organisation thrive.