You've tried creating rigorous screening procedures. You've tried making the onboarding experience better. But, whatever you do, you just can't seem to retain new talent. Maybe it's about time you changed strategies, and gave employee referral programs a go.
Using employee referrals to scale teams is one of the tried-and-tested ways to win the best employees.
As an employer, you have to wear many hats, and there's only so much you can do to ensure that new employees stick around. Plus, there's always the possibility that whoever you approach in the first place, might not be the perfect fit.
You can, however, always rely on your trusty employees to take some of the load off your shoulders.
If you're an employer, or the person overseeing recruitment in your organisation, keep reading. This complete guide will take you through everything you need to know about employee referral programs.
What is an Employee Referral Program?
An employee referral program, as the name suggests, is a recruitment strategy that involves asking existing employees to recommend or suggest potential job candidates for open positions.
Such a program can either be documented or undocumented – depending on how you want to approach it. However, to track everything and ensure a smooth execution, it's best if you have everything formally written down and communicated.
Additionally, there isn't a single strategy to stick to as far as employee referrals go.
Though every company follows a different approach, there are certain best-practices that can ensure that your program will be successful.
Benefits of Employee Referral Programs
There's a lot you can accomplish with a well-planned out employee referral strategy.
This goes for both SMEs and large corporations.
From retaining your employees to reducing the cost of hiring new talent, here are some undeniable benefits of referrals (backed with logic and real data):
Employee Referrals Result in Reduced Time-to-Hire
In one of our previous posts, we mentioned that referrals are one of the 11 proven tactics to hiring faster.
Perhaps the biggest challenge for HR professionals/recruiters is filling positions on a deadline.
Finding candidates who are skilled (and a great fit for the company culture) is tough as it is.
And with more and more employee requisition forms flowing in, it can all turn into one big nightmare.
Considering all of that, time is almost always not on the side of a recruiter.
Asking your employees to recommend people, instead of going out of your way to actively seek out candidates, can significantly reduce the time-to-hire.
In fact, according to one source, hiring candidates who are referred is 55% quicker, on average.
They Result in Reduced Cost-to-Hire
Another major obstacle in the way of recruitment is budget.
There's only so much that an organisation can spare for hiring and training fresh talent.
Compared to other strategies, employee referrals cost less.
Research by Recruiter revealed that companies, on average, can save almost $3,000 per hire.
They Result in Increased Job Offer Acceptance Rates
Even after going through all of the screening processes and finalizing a candidate, there's no guarantee that they'll join – unless they sign a job offer letter.
Remember, you're competing against potentially hundreds of other businesses for the same candidates.
Time and time again, studies have proven that employee referrals result in an increased acceptance rate (2.2 to 6.6%, according to Glassdoor).
Employee Referrals Result in Faster Onboarding & Training
The onboarding experience (including training) plays a vital role in determining whether the new hire will stick around, or not.
Time is of the essence, so the quicker and more efficiently you onboard, the better.
Referred candidates obviously have connections within the organisation, which helps them fit in better and feel comfortable from day one.
Employee Referrals Result in Higher Retention
You've screened out candidates.
They signed the job letters.
Does that guarantee that they'll stick around? Of course not.
Retaining employees – especially new ones – is a whole different story.
But the employees that you hire through a referral program are 45% more likely to remain in your organisation.
The 5-Step Process to Creating and Executing an Employee Referral Strategy
As implied earlier, by using certain best-practices, you can create and effectively execute an employee referral strategy.
Just follow this 5-step process and you'll be on your merry way towards increased retention and higher engagement:
1. Determine Your Goals
Before anything else, you'll need to start off with some clear goals.
Remember – you can never go wrong with the S.M.A.R.T (specific, measurable, achievable, realistic, timed) goals approach.
The ultimate goal of any employee referral program is always the same – finding potential candidates.
However, you have to be a little more specific than that.
Start by asking these questions:
What positions are you looking to fill?
What are the traits you're looking for?
Is there a deadline that must be met?
Are there any other goals that you can accomplish, besides going after potential candidates (such as employee engagement)?
Here are some classic examples of goals:
Increase diversity in the organisation by the next quarter
Improve the quality of hires by X% by the next year
Reduce employee turnover by X% in X months
Your goal(s) can be anything, as long as they're relevant, clear, and achievable.
2. Determine the Process for Referrals
Once you've determined exactly what you hope to accomplish with an employee referral program, it's time to get a tad bit more specific.
For starters, you're going to want to set up a budget.
That will help you finalize a process, and decide whether you want to offer rewards or not (more on that later).
For employee referrals, it's always a good idea to formally set up standard procedures.
If you have the budget for it, you may invest in an employee referral program and customize it with your policies.
If not, you can always go with a traditional approach, and have employees simply email the details of the recommendations (or ask them face-to-face).
However, without an automated system, it can be even more challenging to track everything.
Regardless, at the end of the day, make sure that the entire process is as simple as possible.
3. Consider the Rewards
Let's talk rewards.
Once you've cemented a formal process, it's time to consider how you're going to encourage employees to recommend new candidates.
Traditionally, an employee referral programs involve rewards.
Depending on your budget, these could be anything, ranging from a tiny monetary bonus to a company-issued car.
Here are some popular (and a few unconventional) ideas to reward your employees:
Small bonus given with salaries
Vouchers or discounts for a local business (spa, supermarket, etc.)
Free gadgets (laptops, smartwatches, sound systems, etc.)
Free return tickets to a nearby destination
Assistance with loan repayments
It all boils down to how much budget you have to spare.
You can also opt for a reward that won't cost you a penny, but could make the same impact – a public acknowledgement.
Designate a special board within your organisation to publicly thank your employees for referring candidates. Or better yet, show your love on social media.
Another important thing to consider is when you're going to give the rewards.
Are you going to give them as soon an employee gives a recommendation? Or are you going to wait until the referred candidates have been onboarded?
Those are just some of the questions you should ask yourself before you make any decision.
4. Share the Details & Encourage Your Employees to Participate
Once you've decided everything – the goals, the process, and the rewards policy – it's time to share everything with your employees.
The best way to do that is by creating a formal document, detailing the specifics of your employee referral strategy.
It's important that you and your employees are on the same page.
Encourage them to ask questions and entertain their queries to leave no stone unturned.
Here are some tips on how you can go about doing that:
Hold a program launch party/meeting where you or a team member can introduce the employee referral program.
Every once in a while, hold friendly "referral competitions" between departments and see which team can come up with the most references.
Create a Google Doc of your referral policies and share it with the entire organisation.
Above everything else, you need to promote your employee referral program and motivate your teams to participate.
5. Measure the Success of Your Employee Referral Program
After going through all of the above, the only thing left undone is to measure the effectiveness of your program.
There are many ways you can go about tracking the success of employee referrals, including, but not limited to:
Measuring the participation rate
Looking at the percentage of qualified candidates that were discovered/approached through the referral program
Tracking how many candidates were hired through referrals
The quality of new recruits after implementing the program
The overall cost of hiring through referrals versus through previously-used methods
By keeping an eye on such metrics, you can ensure that your efforts pay off in the long run.
Examples of Great Employee Referral Programs to Inspire Your Creativity
Creating an employee referral program from scratch is no doddle.
Luckily, you can always look at existing employee referral programs from some of the leading companies for some inspiration.
Here are some popular ones:
1. Salesforce
Salesforce has a rather unconventional (and fun) approach when it comes to employee referrals.
The company holds "Recruitment Happy Hours" where employees invite the friends and family members they want to refer – giving a whole new meaning to pre-onboarding.
This casual hang session is a great opportunity for both the potential candidates and the recruitment managers to break the ice.
2. Google
Google has a rather straightforward way of getting recommendations for new candidates.
Instead of having a complex process, the search engine giant simply asks its employees to-the-point questions, such as, "are there any software engineers you know in London"?
By asking direct questions such as these, recruiters at Google get some great recommendations.
Simple and to-the-point – the perfect combination.
3. Fiverr
When it comes to gamifying employee referral programs, Fiverr is at the top of the list.
By partnering with Zao – a provider of employee referral software – Fiverr executes its program by giving "points" to employees for sharing job posts and making recommendations.
Employees can track their points on a dashboard, and receive quarterly or yearly gifts based on their progress.
4. Intel
Apart from innovation, if there's one thing that Intel's known for, it's diversity in the workplace.
To maintain a fine balance and promote diversity in its workforce, the company has made a little tweak to its employee referral programs.
Every time an Intel employee refers a female candidate or any person belonging to a minority, they get double the bonus.
5. Accenture
To add a feel good element to employee referrals, the folks at Accenture use emotional appeal.
As part of their program, the tech giant allows its employees to donate their referral bonuses to charities of their choice.
To make things even better, the company matches the donations.
6. TTEC
TTEC has set a great example in terms of creating convenience and ease with its employee referral program.
The company hands out referral cards with a number printed on them.
Employees can give these cards to their friends and family members, who can then text the word "TTEC" on the given number, like so: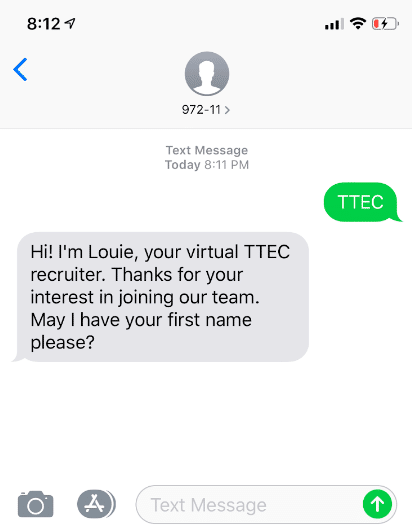 This assigns them a "virtual recruiter" who then asks the potential candidates for their personal information to proceed with the hiring process.
7. InMobi
InMobi came up with a unique and cultural-specific way of encouraging employees to come forward with recommendations for engineering managers.
To their Indian employees, the company offered a Royal Enfield bike as a reward for a successful referral.
Meanwhile, employees in the US were promised a Vespa.
The program was a huge success, as the company was able to recruit some of the most competent profiles in a matter of days.
Ending Note
Creating and executing an employee referral program can be difficult, but it all pays off in the long run.
In case you don't have the time or other resources to opt for this route, you can always let Jobheron take care of your recruitment woes.