Video CVs are an up-and-coming trend in the hiring process. They've been around for a little while now, but have recently started gaining a lot of traction – or hype, at least. They're supposed to allow hiring managers to learn more about the candidate, without having to do any initial reading.
Is it time you started accepting video CVs to take your hiring process to the next level?
Read on to find out!
What is a video CV?
A video CV, or video resume if you're in the US, is a short presentation. The candidate showcases their career history and attributes to prospective employers. This is done through the medium of video.
Job seekers can enlist the help of a professional to create a video CV or create it themselves. Some job search and networking sites already provide the option for users to integrate video CVs into their profiles. The video is traditionally intended to supplement, not replace, a written CV. It can be general or targeted to a specific organisation or role.
The Video format potentially has a lot going for it, in terms of talent acquisition. We live in an era where information moves quickly and people are bombarded by messages at all times. A video may rise above the ocean of information, putting communication skills first. Simplifying things could help streamline the decision-making process. This may make it easier, and perhaps even fun, during this time when career turnover is set to be at an all-time high. But, while 'fun' may be a requirement on social media apps, the same can't be said for recruitment practices.
TikTok Video CVs
TikTok, via its new TikTok Resumes initiative, asks people to make short videos (1-3 minutes in length) of themselves and post them onto the TikTok app. Employers display job opportunities on the app and invite job seekers to create their video resume. Users with standout clips are contacted to begin the formal hiring process. The app's youthful audience are digital natives, many of whom are first-time job seekers. In the short videos, they're encouraged to highlight their skills creatively, in ways the written word arguably cannot.
It's a trial run, exclusive to the US, and ended July 31st. Pending its success, it could be launched on a global scale, dropping in the UK, as so many products have in the past after debuting in America. These clips will be used to get a better understanding of a candidate's personality and work-related skills. Instead of sending out traditional CVs in response to a job ad, or even checking their LinkedIn profile, which may seem restrictive or outdated in comparison, employers now have an alternative way to find individuals who are the right fit for the job posting.
Over 30 companies, including Target and Chipotle, have signed up to the initiative. This gives you a clue as to the types of open positions and industries the app is targeting – with an emphasis on retail and hospitality.
Gen Z has been hit hard by the pandemic. TikTok is being hailed as a timely way to show off their skills. The mostly young audience has grown up in this virtual capacity, an experience intensified by the pandemic, which of course rendered many stuck at home, in front of a screen. In-person interviews and networking events are becoming outmoded as employers opt for remote working, causing unconventional recruitment methods to surface.
Video CVs: The recruitment process has changed
Recruitment has evolved alongside technology and social media. Employers are now discovering talent through various alternative means. Kira Meinzer, Chief People Officer at Envoy Global, has echoed this. He states that "employers have shifted from a 'post and pray' mentality to now having to source talent through various non-traditional methods".
So, it seems that one way to get Gen-Z engaged in the job application process is by exchanging their traditional cover letter for a video. This shift may allow potential employers to get a better sense of what an applicant is really like. Video CVs are an innovative method for people to show off their skills and experiences in authentic, creative ways. This is conveyed with all the depth of video that a paper resume can't offer. Swapping text with video may also promote the inclusion of individuals who might not otherwise have access to more standard communication channels. Perhaps the medium could bring about a democratisation of the recruitment process.
Video CVs seem to have plenty going for them. There are also some definite drawbacks. It's time to weigh it up. Here are the pros and cons:
Pros
Video CV's place in hiring
Hiring via social media is a powerful new tool. That's because it aids recruiters in adapting their strategy based on the specific roles they're recruiting for. Then they can identify hidden talent.
This is crucial for employers relying on global applicants. Social media platforms can help source international talent and streamline the evolving communication process.
However, it's important to distinguish a recruiting opportunity from one that merely provides data that can be used to vet candidates and determine who is most likely to succeed in the role and company culture.
Add a personal touch to the hiring process
Companies increasingly prioritise speed and efficiency in the recruitment process. It's easy for applicants to get lost in the shuffle. Candidates are forced into a narrow process that favors standard traits over individuality. Video potentially offers the tools to distinguish oneself from the crowd.
People are finding video CVs refreshing during the job search process. In TikTok's case, it provides an interactive platform where candidates can talk candidly with one another via the app, about their experiences within various industries.
Job seekers are able to get invaluable feedback from fellow millennials who've been down the path before. Perhaps this public element will endure among subsequent video CV platforms.
When considering remote workplaces or filling a new job from afar, it's important you get a sense of who they really are; otherwise, how will you really know if the applicant is right for the job?
TikTok has already established video CVs and profiles of creators who continue to produce career and job-related content. This makes it easy to access and respond to job listings with your own highly personalised video CV.
Your company's growth trajectory
As the global economy shifts and job seekers become more discerning, employers need to work on a strong growth trajectory. The best way for companies could be through new platforms that directly connect with Gen Z's career conversation.
Being mindful of the hiring climate and where it's heading, it's important to take proactive steps in order to stay competitive. Finding new ways such as direct engagement via social media or building relationships in person can help you stand out among other companies that are competing for talent.
Recruiters are always on the lookout for talented people. Your company has probably already been successful in creating a digital presence that's attractive to both potential employees as well as clients; however, if you want your business to stand out even more amongst other organisations, then investing some time into developing this aspect may be a no-brainer.
Video platforms like YouTube have become increasingly popular because they offer new ways for professionals, such as YouTubers or video creators, in addition to those outside these sectors, to market themselves. As recruiters know firsthand through their extensive experience in locating talent, videos can supplement job applications or profiles, say, in place of the cover letter – allowing for the candidate to weave a compelling narrative via both text and video.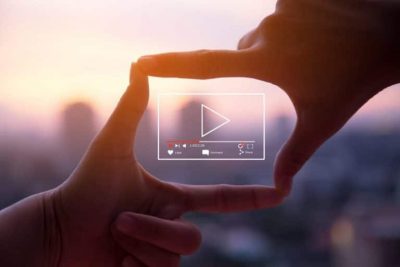 Cons
A conscious bias?
If recruiters have to examine 100 three-minute videos, efficiency may suffer. Instead, it might be preferable to see the video introduction replace the much-maligned cover letter, where storytelling can make a difference. It would be encouraging to see a range of options to send video messages privately, as opposed to TikTok's public posting service.
Recruiters recognise that unconscious bias filters into the hiring process regardless of the tools used. Social platforms like LinkedIn are curated by algorithms that often respond too heavily to superficial factors such as race, gender, and class.
For decades, leaders have debated technology's role in removing bias from the hiring process. It's difficult to build a platform that is fair, safe, and equitable across all underrepresented groups.
Aside from the platform, plenty of 'blind hiring' software exists, aiming to level a candidate's application by getting rid of aspects that could indicate gender, race, and age, eliminating personal traits and leaving only the raw, relevant information.
By prioritising a candidate's visual presentation, TikTok Resumes veers in the opposite direction.
Unconscious bias filters into the hiring process regardless of the tools or workflow, but the onus is on training HR professionals to recognise and evaluate talent beyond those snap judgments.
Social media can be distracting
The recent popularity of TikTok has resulted in many companies using it as a new recruiting tool. Eric Sydell, executive vice-president for Modern Hire Innovation says that while the app is exciting and may seem like an easy way to find talent, one must keep company goals in mind when hiring. "TikTok can be distracting," he warns," It's important not to lose sight of what our real goal is: finding qualified candidates".
Critics agree – video CVs do offer a novel method of showcasing one's uniqueness in an unconventional setting. However, hiring experts remain skeptical about its efficiency as a tool for finding candidates.
The science on video CV's efficacy isn't there…yet
There isn't enough information on any given user just from scrolling through videos, which can be frustrating at times. Especially when looking for specific requirements like education or experience.
A CV should be straightforward and show the applicant has the basic requirements for the role. Text best presents this. An individual's achievements should be quantifiable. Recruiters already skim hundreds of CVs at a time. Sydell doubles down on this, stating, "we're seeing social media being increasingly used in hiring decisions, but there's not a lot of scientific evidence that it's useful," Furthermore, "in the case of video résumés, candidates who are good looking, personable, and funny will likely have greater success. But those traits are not always most related to job performance. What about problem-solving, creativity, or being a team player? Those are useful skills in a variety of jobs, but they're harder to assess in a video résumé."
Older generations are excluded
The New York Times reported that by having to make video CVs public via social media, as with TikTok, any given candidate may have several identical competing video resumes professing enthusiasm for different employers with varying needs. The hiring manager at Facebook won't be thrilled to see an identical application posted for a role at Google. It's clear that while some recent events in hiring more or less flatten the candidate profile to prioritise speed and efficiency, uploading a video CV would negate this progress, to an extent.
This is especially true of applicants that haven't grown up with this technology. The final word on video CVs may well be that it successfully shuts out a large portion of applicants – in favor of younger applicants.
Video CVs, exemplified by TikTok's latest initiative, clearly focuses on the youth market. After all, Gen-Z and Millennials mainly use the app. This demographic is also the target market for retail and hospitality recruiters. These are high-churn sectors that can reach out to charming young people to energise their workforce. But what about other audiences? Erik Sydnell further casts doubt on the enterprise, "tools should be efficient and effective, and offer experience and equity," he says. "Using a video résumé could create a good experience if you're the type of person who likes uploading videos of themselves. If not, then it's not a good experience."
So, video CVs are one to watch, for sure
TikTok has made them popular again, but perhaps just for the moment. It seems a video component of an overriding, traditional job application could be effective, but for the broader recruiting audience, relying on a video CV isn't going to change the game anytime soon.