Almost everyone is familiar with the concept of e-Recruitment. Since every other employer is leveraging a digital tool/channel for seeking, assessing, and hiring candidates, the concept has been embedded within the traditional definition of recruitment. Regardless, being in-the-know of the hottest e-recruitment trends can go a long way in ensuring that you're keeping up with others.
Today, online recruitment has gone way beyond than just looking for potential candidates on job boards and LinkedIn.
High competition, coupled with a lack of talent and nerve-wrecking time pressures, have forced recruiters to evolve.
Over the years, new e-recruitment trends, tactics, and technologies have changed the game.
But what will happen in 2020?
In this article, we're going to discuss the 7 e-recruitment trends that are expected to catch on this year.
Let's dive in.
What is e-Recruitment?
As the name suggests, e-recruitment (or online recruitment) refers to using technology for recruitment purposes.
This could include one, few, or all of the following aspects of the process:
Finding and attracting candidates
Interviewing and assessing them
Selecting them
Hiring them
This "use of technology" can be anything, ranging from using social media to share a post about a job opening, to leveraging a complex software to determine if a certain candidate is the right fit for the company.
Other commonly-used tech for recruitment includes:
Job boards
Application Tracking System (ATS)
Gamification programs/channels
Video calling programs
Chatbots
As mentioned earlier, today, e-recruitment is no longer perceived as a separate thing, but rather as an essential part of the entire process.
The Smashing Benefits of e-Recruitment
Companies that engage in e-recruitment enjoy quicker response rates, lower cost, and other amazing benefits.
Despite its mass acceptance, some businesses still rely only on traditional mediums and practices for their recruitment needs.
Here's what they're missing out on:
1.      Quicker Process
It goes without saying that with online recruitment, an employer can save a lot of time in terms of filling in positions.
For starters, publishing job openings online is far quicker than opting for newspaper ads. On the other hand, candidates are also able to apply for said positions more quickly.
Furthermore, with a CV filtering software, the employer can screen-out unfit profiles with ease.
And all of that is just the tip of the iceberg. There's a lot more that you can do with e-recruitment.
2.      Access to a Larger Pool of Candidates
In a number of industries around the globe, there's an acute shortage of qualified professionals.
That being said, some recruiters don't know where to look for candidates, because of which, they end up getting the impression that there aren't any profiles to hire.
Today, the majority of job seekers in the UK (and beyond) use online platforms, including job boards, LinkedIn, and other social networks.
In fact, in a study that examined the effectiveness of different sources for job-seeking, researchers found that 52% of respondents in the UK considered online job sites the most effective channel.
3.      Cost Cutting
e-Recruitment takes out all of the tedious manual work from the picture, resulting in higher productivity, and of course, reduced cost of hiring.
For one, you don't need to rely on print channels (newspaper and magazines) to advertise your job openings.
With the help of social media (depending on your strategy), you can attract candidates without spending a single penny.
Additionally, with online recruitment, you can cut down on your use of manpower.
4.      Higher Discoverability
By using online platforms, you get a global reach, whereas with conventional channels, you're rather limited to certain geographical regions.
Besides, due to the high usage and acceptability of these platforms, you're more likely to be discovered by a greater amount of potential candidates.
5.      More Flexibility
Compared to manual methods or channels, e-recruitment is far more flexible.
For example, you can tweak job posts, track applicants, change recruitment policies/procedures, etc. – all on-the-go.
If everything is done manually or through printed documentations, change isn't always immediate, and in some cases, impossible (case in point: printed job ads).
6.      Highly Targeted Reach
Last, but not least, with online recruitment, you're more likely to find ideal candidates with ease.
Job boards (and social networks) allow you to discover potential candidates by searching for relevant credentials, professions, experience-level, geographical regions, and other factors.
Additionally, you can get highly targeted with your job ads. Using Facebook ads to target people that meet certain criteria is a great example.
The Top 7 e-Recruitment Trends for This Year
In order to attract and hire suitable profiles, you'll need to do more than just offer a competitive package.
For the remainder of 2020, we expect the following e-recruitment trends to catch on (some have already gained traction and will stick around):
1.     Increased Focus on Remotely Recruiting Remote Workers
If there's one thing that Millennials and Gen Xers want, it's flexibility i.e. the freedom to set their own schedules and work from wherever they want.
Since these two generations make up the majority of the modern workforce, employers have to comply with their demands.
According to the Office of National Statistics, almost 50% of UK employees will be working remotely this year. The same survey revealed that nearly 90% of people would prefer working remotely, for at least part-time positions.
The rest of the world tells a similar story (for example, nearly 4.3 million US employees work remotely).
Considering all of that, all employers – regardless of size and industry – need to start offering remote work.
Naturally, this should include the actual recruitment process, meaning that for interviews, assessment, and onboarding formalities, physical presence and proximity should no longer matter.
Obviously, with certain jobs that involve disclosing proprietary information or on-site training, this isn't possible. Nonetheless, we expect many employers to jump onto the remote-recruitment bandwagon this year.
2.     Using AI to Reduce Bias
Thanks to social media, recruitment agencies and major companies are always under a microscope.
Whether they like it or not, employers are required to be extra-careful while finding, selecting, and hiring candidates, lest they end up fighting a PR crisis.
Companies that offer equal opportunities and recruit regardless of age, gender, skin colour, and other irrelevant characteristics are more likely to hire talented individuals.
An old survey by Glassdoor revealed that nearly 67% of candidates considered diversity as a critical factor when selecting employers. We reckon that the figure has most likely increased over the years.
That being said, people can be biased (sometimes, without even realizing it). To tackle this problem, some of the world's leading companies, like Deloitte and LinkedIn to name a few, have turned towards AI to eliminate recruitment-bias.
FREE DOWNLOAD - ULTIMATE HIRING CHEAT SHEET →
Platforms such as HireVue and Headstart are already changing the game with their diversity-screening and bias-reduction solutions.
By the end of the year, we expect that more companies would have incorporated these solutions to their recruitment procedures.
3.     More Focus on Recruitment Marketing Tools
More often than not, employers believe that recruitment marketing is limited to posting job ads. While that is a critical component of the whole talent acquisition process, those aspects are different from actual recruitment marketing.
In the most basic sense, recruitment marketing is similar to regular marketing. The only difference is that you're creating awareness, inspiring consideration, and building interest for job candidates – not customers.
The following diagram does a great job at illustrating this concept: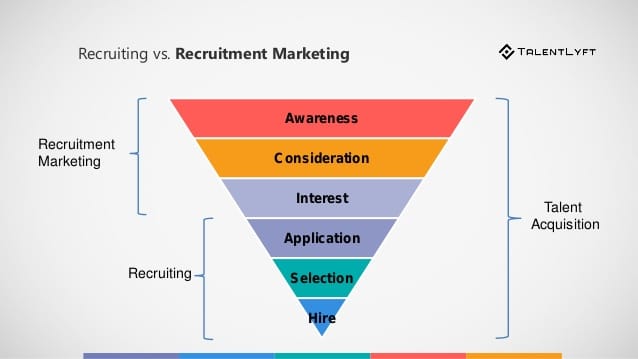 (via TalentLyft)
Apart from LinkedIn/social networks, blogs, and job boards, companies are leveraging other marketing tools to stand out and attract the best profiles in the market.
Some popular tools include:
Analytics software (to find out which candidates are visiting your website)
Programmatic advertising (to optimize campaigns)
Tracking snippets (to target potential candidates who visit careers pages)
Data visualization platforms (to get more insights)
As the competition gets even tougher, we expect that more and more employers will begin utilizing these tools for recruitment purposes – adding to the list of e-recruitment trends for 2020.
4.     Using the Candidate's Preferred Channels for Assessments
If you're wondering how to conduct the perfect interview, perhaps you should start thinking about the various preferences of individual candidates.
A candidate may find commuting to your office for interviews and assessments challenging.
Plus, there's always the possibility that they might not be 100% in their "zone," which could result in them not getting selected.
Some prefer the comfort of their bedrooms, while others would rather meet up.
Employers need to start asking candidates about their preferred channels for assessments.
However, this would entail investing in online assessment and interviewing software.
According to the Global Recruiting Trends report for 2017 (by LinkedIn), 34% of recruiters said that they saw themselves using "innovative interviewing tools" in the near future.
With that in mind, we reckon that an increasing number of employers might invest in such tools this year.
5.     Higher Adoption of Applicant Tracking Systems
Back in 2018, it was estimated that about 98% of Fortune 500 companies used applicant tracking systems for their recruitment needs.
That makes complete sense – considering that companies that big can't manually handle their recruitment needs.
In case you've never heard of them before, applicant tracking systems are software that allow recruiters to build a database of potential candidates, organize their data, filter out profiles that aren't suitable for your organisation, reach out, and track their progress.
ATS are most commonly used by large corporations that engage in heavy hiring on an annual basis.
However, over the years, small and medium-sized businesses have also started using these systems. We expect that this trend will stick around, and businesses of all sizes will continue using them.
And why wouldn't they? Research shows that 86.1% of recruiters achieve faster hiring with the help of applicant tracking systems.
6.     Using Unusual Apps to Find Jobs & Candidates
The struggle of staying ahead of the competition has certainly made both recruiters and job candidates desperate.
People are getting creative and looking beyond usual apps/channels to find jobs.
Over the past few years, many people have used dating apps like Tinder and OKCupid to successfully find jobs or seek out business opportunities.
Since nearly 50 million people use Tinder (whereas over 1 million use OKCupid), it may potentially be a massive and untapped pool of candidates.
While there's no concrete data that shows how many employers are currently using these apps/platforms to find candidates, it won't be long before using dating apps for recruitment becomes the norm.
7.     Increased Outsourcing to Online Recruitment Agencies/Services
A large number of employers are entrusting online recruitment agencies with their hiring woes – another one of the e-recruitment trends for this year.
While there could be a number of reasons for that, a common factor could be to focus more on onboarding and other functions.
Since the onboarding experience plays a big role in determining the new employee's future with an organisation, it makes sense why a company would go all in on that.
While hiring an online recruitment agencies/services may seem like an unnecessary expense, they could help you save money in the long-run.
However, be extra-selective when choosing a service. For one, make sure that they're providing end-to-end solutions, like JobHeron.
What it All Means
With all of the ground-breaking technology that has revolutionized the field, does it mean that HR departments will disappear over time?
Not exactly.
Companies will always need the human touch in human resources, which is 1 of the 5 reasons HR will survive in the future.
That being said, as with any other field, HR professionals have to embrace the technology – not run away from it.
This entails:
Keeping up with the latest recruitment and onboarding trends
Automating the time-consuming aspects of the job (such as applicant-tracking, assessments, etc.)
Going beyond the usual channels to find new candidates
Seeking help from an online service that makes the job easier (remember: You can always use Jobheron to take care of your recruitment needs)
By implementing the e-recruitment trends discussed above, you can potentially improve your overall process and find strong profiles to join the team.